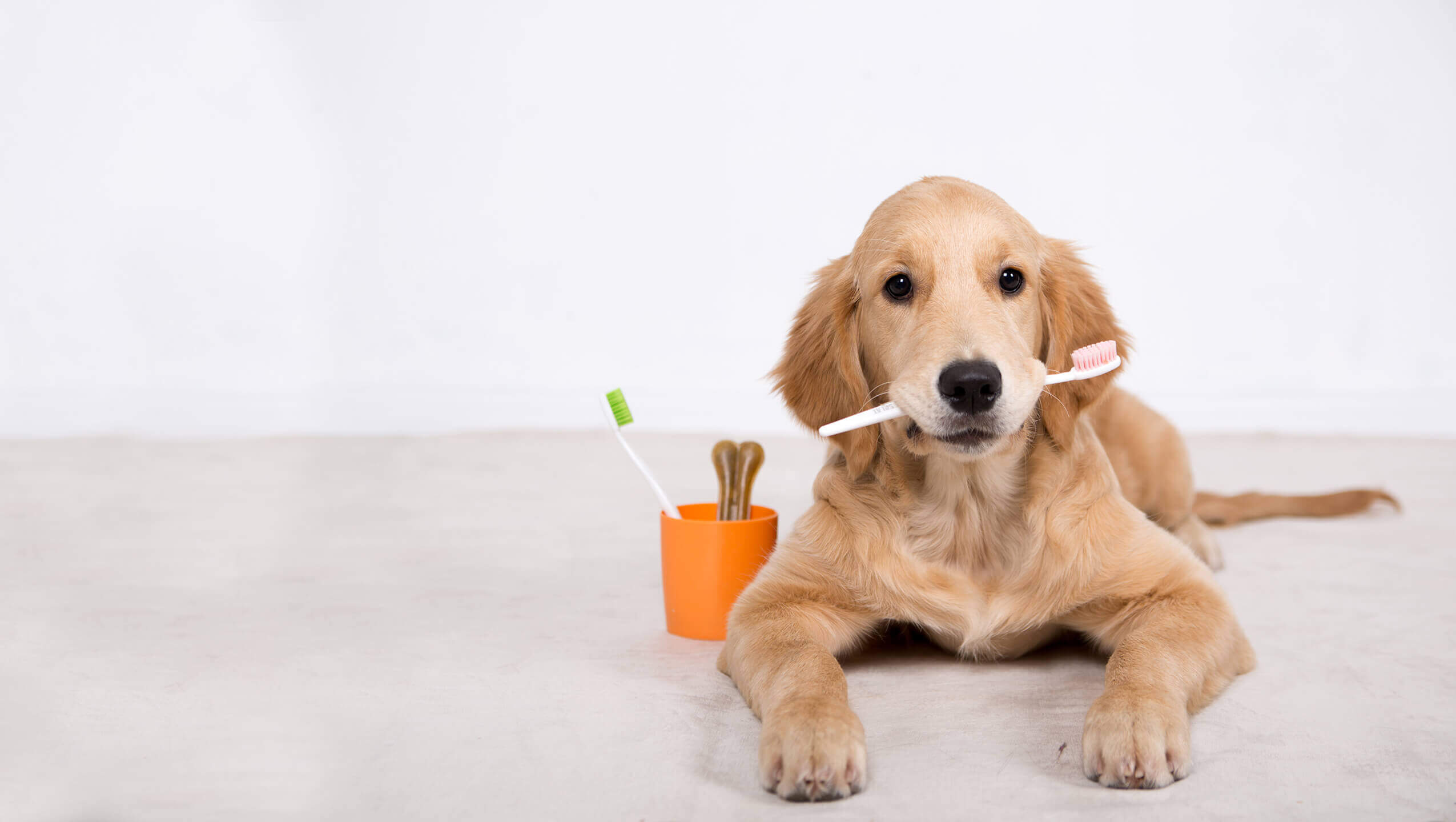 Dental Care
Does your best friend have bad breath?
"Dog breath" is not just unpleasant – it's a sign of an unhealthy mouth. Bad breath is caused by bacteria that leads to plaque and tartar buildup on your pet's teeth. The result is bad breath, reddened gums and other common signs of dental disease.
As dental disease progresses, your pet may drool, be uncomfortable while chewing and even lose teeth. Treats and chews designed to control tartar are frequently not enough to keep dental disease in check.
Ask us about the best ways to control plaque and help protect your pet from dental disease!
Dental hygiene is an important part of your pet's health, because dental disease can be associated with other serious health problems such as heart disease and kidney disease.
But how do you know if your pet has a healthy mouth?
We can examine your pet's teeth and gums to help determine if there are any dental issues. After a brief visual examination, we may recommend a more detailed examination (which requires sedation), a dental cleaning or options for at-home dental care.
Even if you think your pet's teeth and gums are fine, we can offer expert advice to help you keep them that way! Dental health shouldn't be taken for granted. Fortunately, many dental problems can be managed through at-home care and by bringing your pet to us for regular dental checkups and teeth cleanings.
We want your pet to live a long, healthy life, and maintaining a healthy mouth is part of that. Your pet's health is important to us, so let us help you with this commitment!
Call today at (813) 746-3979 to discuss your pet's dental care needs and how we can help!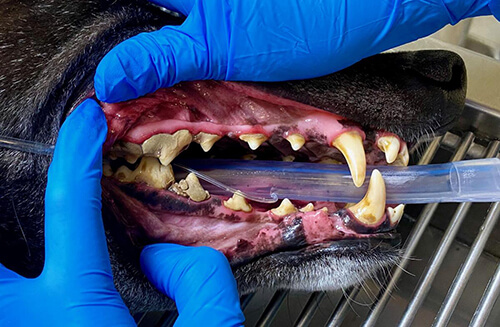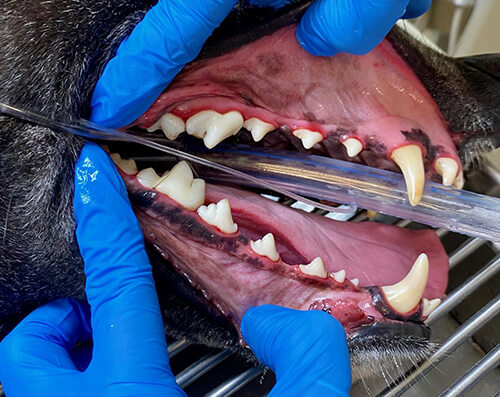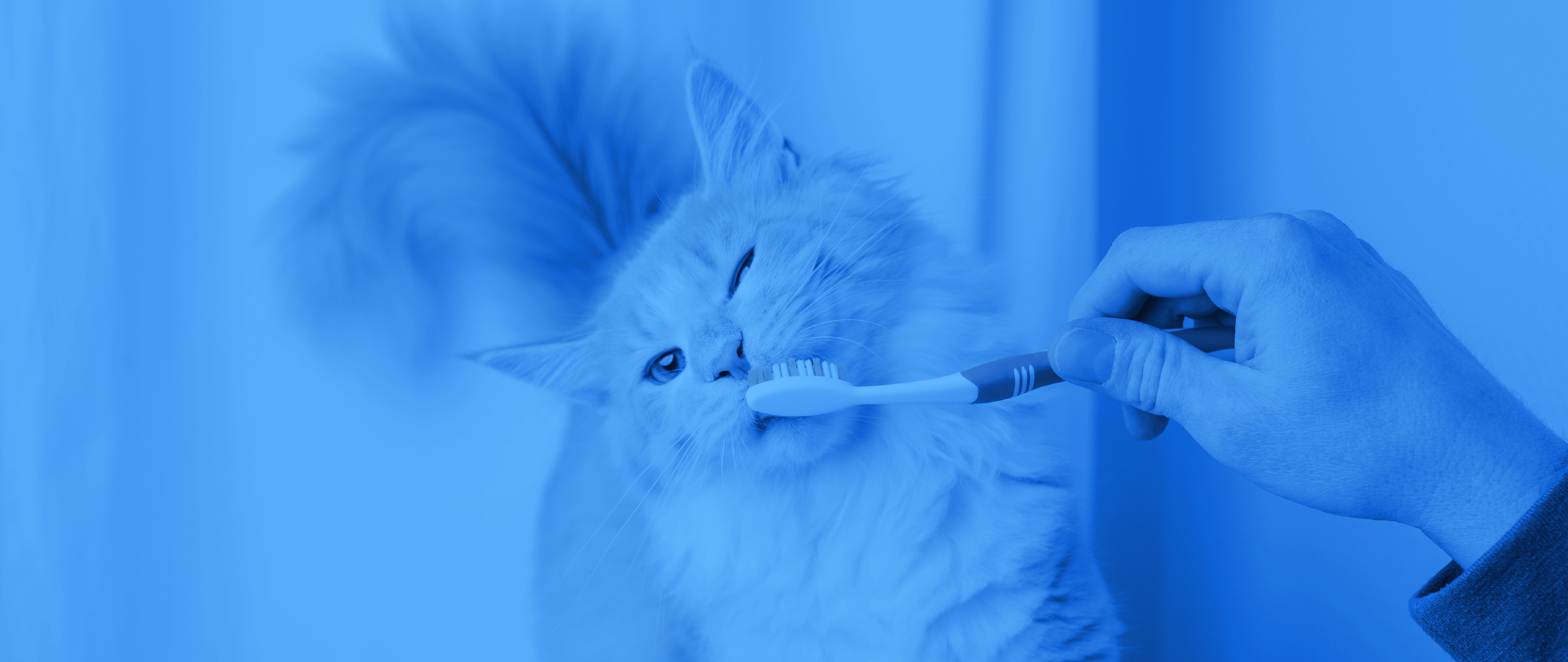 FAQs
1. What are dental cleanings?
Dental cleanings start just like yours. An oral exam is performed where we count and chart the teeth, full-mouth radiographs are taken, teeth are scaled with an ultrasonic scaler and polished, and we remove calculus from the tooth's surface and under gum lines. We then probe the teeth to measure the pockets that exist under the gum lines. If teeth are unhealthy, we remove them. There is often pain and risk of infection associated with dental disease.
2. How long does a cleaning take?
If your pet doesn't require extractions, the process takes under an hour. If we need to perform extractions or your pet has dental disease, however, it will take longer. During the entire dental cleaning, we will keep you informed.
3. What are symptoms of dental disease in my pet?
Bad breath
Broken or loose teeth
Extra teeth or retained baby teeth
Discolored or tartar-covered teeth
Abnormal chewing or drooling
Reduced appetite or refusal to eat
Pain in or around the mouth
Bleeding from the mouth
Swelling around the mouth
4. What are dental extractions and why do you do them?
Dental extractions are when we remove teeth during a dental cleaning procedure. Reasons for extractions include:
Teeth are fractured (after chewing on an antler or rocks, for example).
Baby teeth haven't come out.
Teeth have an abscess or pocket of infection at the root.
Teeth never erupted (these can cause dangerous cysts).
Teeth are dead causing infection or pain.
Teeth are mobile or loose causing infection and discomfort.
The inside part of tooth, called the pulp, is exposed.
We remove as few teeth as possible, but sometimes dental radiographs show problems under the gum line that need to be addressed.
5. Do I need a pre-op appointment?
Pets are required to have a full physical exam and medical history review prior to a dental procedure. This gives you an accurate estimate of your pet's stage of periodontal disease, including whether any teeth need to be removed. It also ensures your pet is ready to undergo the anesthesia necessary for the procedure.
6. What is periodontal disease?
Periodontal disease is the inflammation or infection of the tissues surrounding the tooth. Accumulation of tartar and calculus on the teeth contributes to gum recession around the base of the tooth. Left untreated, infection can spread into the tooth socket, and ultimately the tooth loosens and falls out.
7. Why does my pet need dental radiographs?
We perform dental radiographs for every patient to ensure the health of the entire tooth because 2⁄3 of the tooth is under the gumline. Dental radiographs can reveal things like abscesses, bone loss, impacted teeth and more.