Our Veterinarians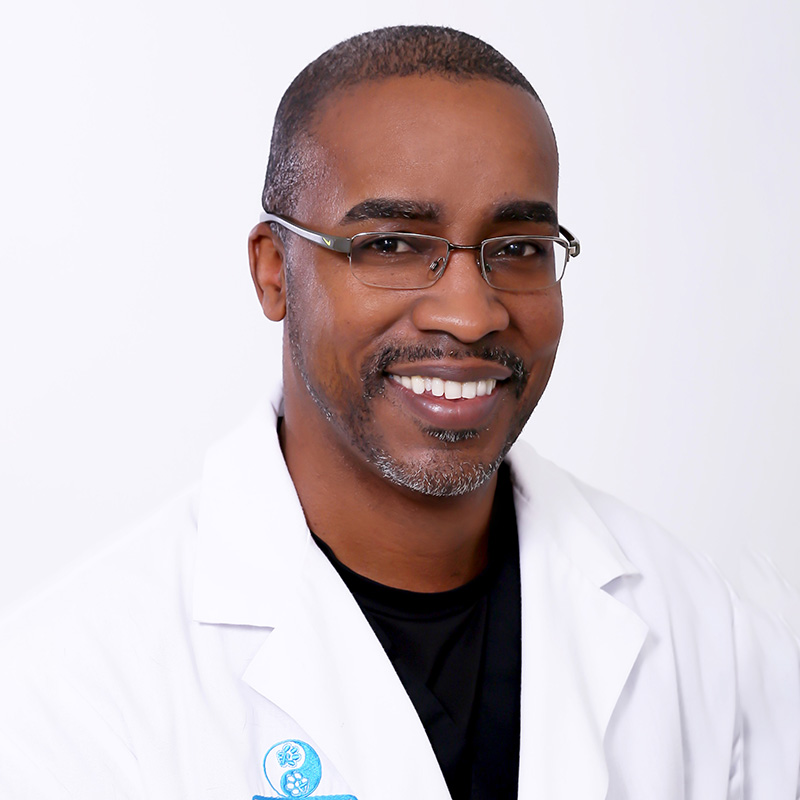 Ronald Hamilton, DVM, BSc, ASSc
Medical Director
Ronald is a Jamaican native and despite his laid back attitude, his passion has always been medicine. He obtained an Associate's degree in Veterinary Public Health and Animal Health in Guyana, a Bachelor's of Science in Animal Health in Texas, and his Doctorate of Veterinary Medicine at the famous Tuskegee University in Alabama. His passions are internal and rescue medicine. In his spare time, he reads fiction and non-fiction and listens to music (of which his favorite is reggae).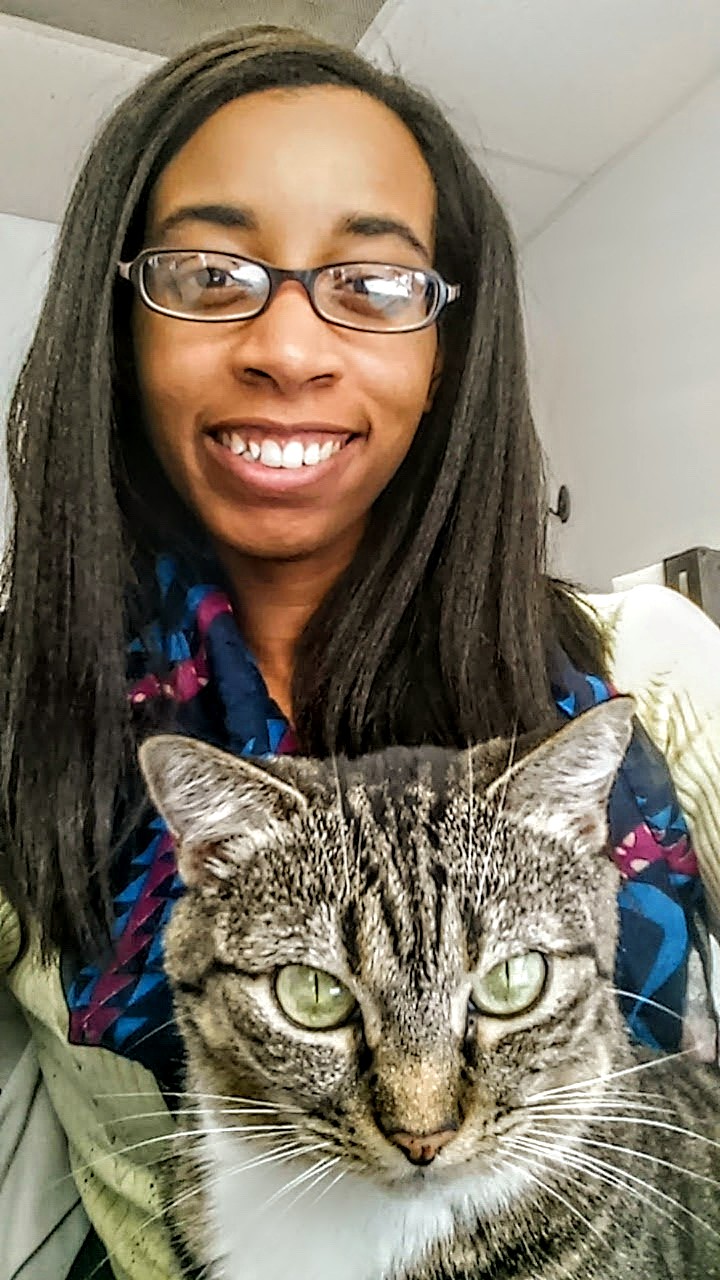 Brittany Mathes Wilson, DVM
Associate DVM
Dr. Mathes is a Florida transplant. She was born and raised in Chattanooga, TN. She attended the University of Tennessee Knoxville for both her undergraduate studies and veterinary school. She completed a 1 year rotating small animal internship at Regional Veterinary Referral Center in Springfield, VA. Although she loved her time in the DC area, winter approached; she was then reminded that she is a southern girl who doesn't like driving in the snow! In 2013 she found herself in Tampa Bay, and now she's home! Dr. Mathes shares her home with her 2 cats, Twinkle Beans and Picatsso. In her spare time, Dr. Mathes enjoys salsa dancing, scrapbooking, cooking, and almost anything outside!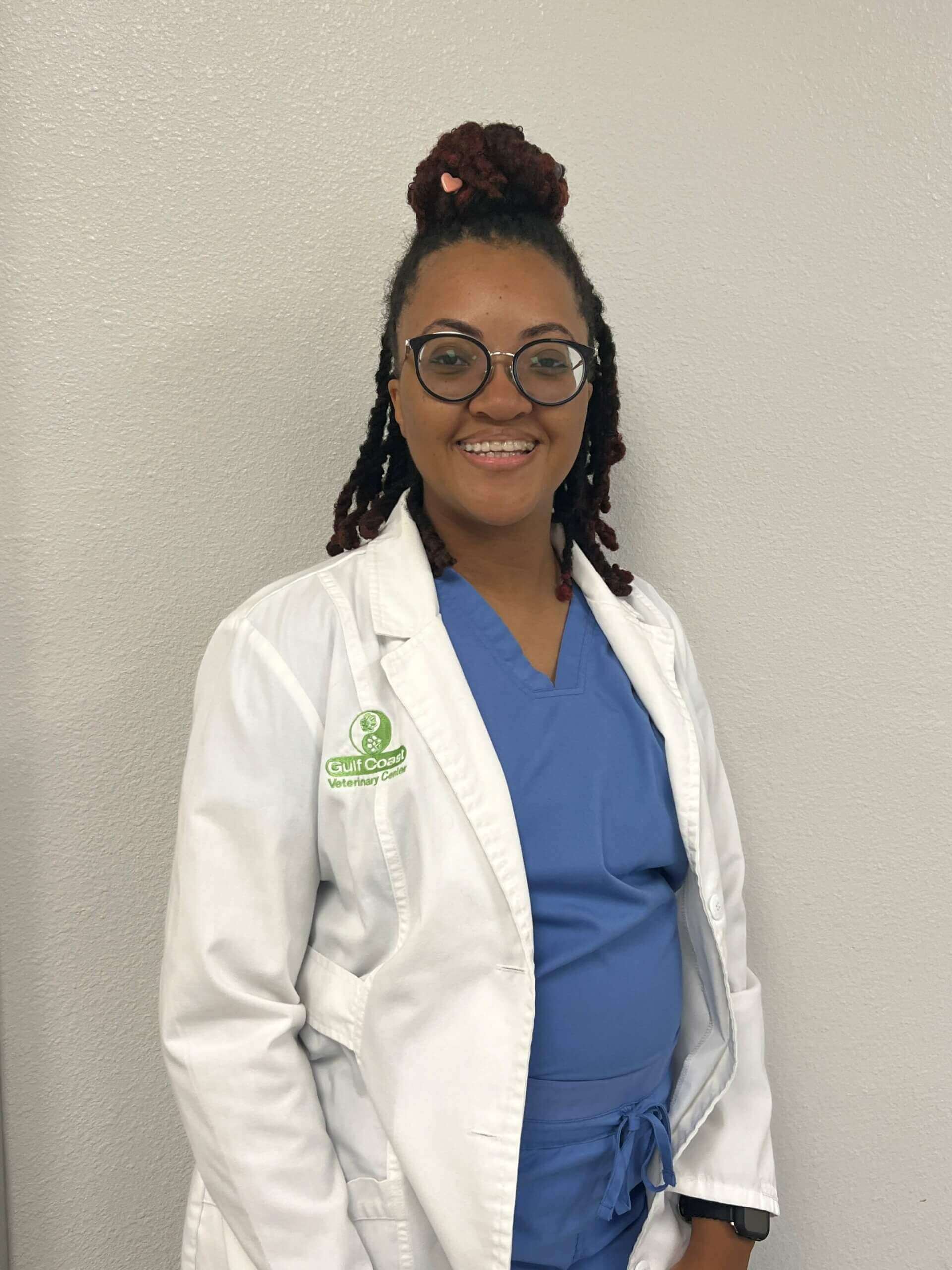 Dr. Breunna White, DVM
Associate DVM
Dr. White was born and raised in Atlanta, Georgia. Her love of music and marching band led her to Bethune Cookman University (located in Daytona Beach, FL) where she earned her B.S. in Biology. It was also there where she met her husband. Soon after graduation, she was called back to her home state where she earned her Doctorate of Veterinary Medicine from the University of Georgia. GO DAWGS!! Dr. White is excited to practice in the sunny (and interesting) state of Florida. Her husband, a Florida native, looks forward to converting her into a Buccs football fan.
Dr. White shares her home with her husband, son, and goofy dog Kilo. When not providing care to your fluffy loved ones, Dr. White enjoys visiting the beach and binge-watching TV shows.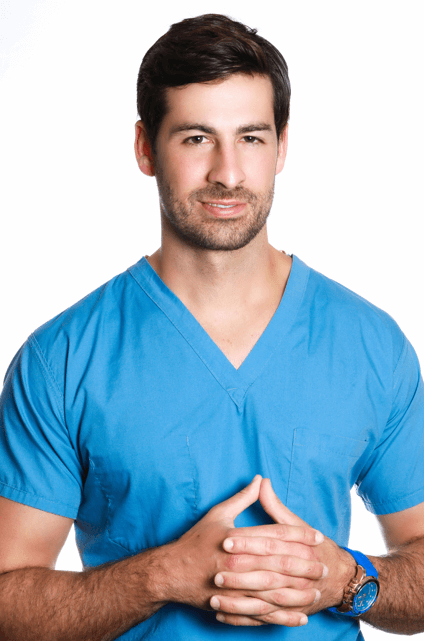 Carlos Garcia, DVM
On occasion, we may call in Dr. Garcia to perform surgeries for our patients. He provides our clients an additional option for those that are unable to pursue specialized care. We are able to offer with his assistance, advanced procedures such as TPLO's, patella luxation repairs, fracture repairs, and a wide variety of soft tissue surgeries at a reduced cost.
Dr. Carlos Garcia has a Bachelor's of Science from the University of North Carolina at Asheville where he studied Cellular and Molecular biology and is a 2015 graduate of Ross University School of Veterinary Medicine. He worked as a general practitioner in Miami and Tampa Bay for three years. He then completed a Small Animal Surgery specialty internship at Affiliated Veterinary Specialist.
On his free time he enjoys the beach life, working with cars, cooking, weight lifting, and most importantly spending time with his wife and family.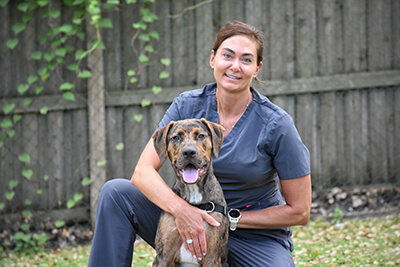 Kelli Weaver, VMD, DACVIM
Traveling Internal Medicine Specialist
Dr. Kelli Weaver has been working as an internal medicine specialist in the area since 2005.  After graduating from the University of Pennsylvania in 2000 she completed an internship at Georgia Veterinary Specialists in Atlanta, Ga and then stayed a year to run their emergency department before heading to Massachusetts to complete an internal medicine residency at Tufts University. She headed down to the Tampa Bay area in 2005 and started working at Tampa Bay Veterinary Specialists where she was for 15yrs and then moved to CARE for 2 years before deciding to start a mobile internal medicine service.  In addition to providing specialty care she is on the board of directors for the Humane Society of Pinellas County and is starting a nonprofit to help support animals in need.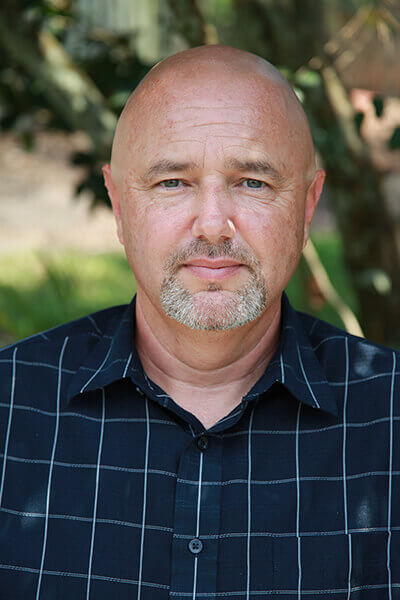 Chris Ludlow, DVM, DACVIM
Veterinarian
Dr. Chris Ludlow earned his DVM with honors from Kansas State University in 1986, and he is a Diplomate of the American College of Veterinary Internal Medicine. He worked in a busy small animal general practice in southern California for five years then returned to KSU to complete a combined internal medicine/small animal clinical nutrition residency and master's degree program under Dr. David Williams.
After finishing his clinical nutrition training, Dr. Ludlow joined the internal medicine faculty at KSU before going into private specialty medicine at Veterinary Specialty and Emergency Center in Kansas City. In 2001, Dr. Ludlow took a position with Royal Canin, where he served in the Scientific Communications division, lecturing nationally and internationally in internal medicine and nutrition. Dr. Ludlow was a staff internist at the Animal Specialty and Emergency Hospital in Rockledge, Florida, for six years before starting Veterinary Internal Medicine Diagnostics.
Dr. Ludlow has over 15 years of experience in ultrasound and endoscopy. He has lectured in gastroenterology and has taught endoscopy wet labs at national meetings. An active member of the Comparative Gastroenterology Society, he has also been a fellow at the Mark Morris Institute for Clinical Nutrition. He has taught clinical nutrition at veterinary schools all over the U.S. and abroad. When not busy consulting with veterinarians or lecturing, Dr. Ludlow enjoys cycling, hiking, nearly all types of music and the occasional bottle of good wine.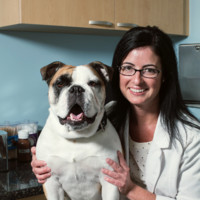 Michelle Newkirk, DVM
Relief Veterinarian
Dr. Michelle Newkirk was born and raised in Cleveland, Ohio. She attended The Ohio State University for both her undergraduate and veterinary medicine degrees. Dr. Newkirk graduated Magna Cum Laude in 1999 with a BS in Zoology and Magna Cum Laude in 2006 as a Doctor of Veterinary Medicine.
After graduation, Dr. Newkirk stayed a few years in Ohio working in both general practice and emergency. She then grew tired of living in the "snow belt" and wanted to find some sunny weather, which led her to move to St. Petersburg in 2012. She continues to practice in both general practice and emergency medicine, along with working for non-profit organizations.
Dr. Newkirk is a member of the American Veterinary Medical Association and Florida Veterinary Medical Association. In her free time, she enjoys the beach and taking her dog "Newman" to the dog friendly restaurants in St. Pete. She also loves to bicycle, cook, and travel. Her favorite activity in the fall is watching her Ohio State Buckeyes win in football. O-H!!
Management/Supervisors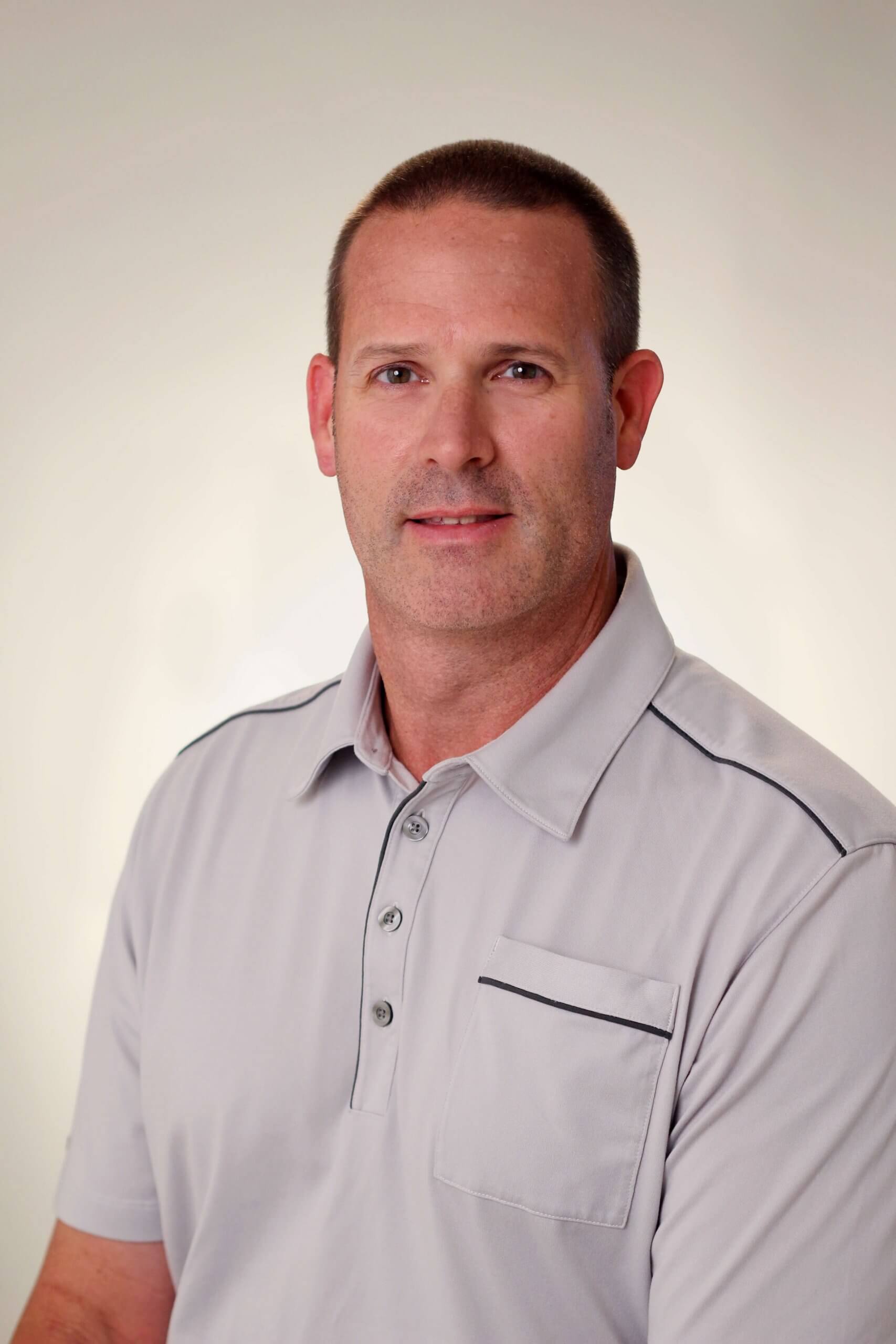 Steve
Hospital Administrator
Hello, I'm Steve and I'm the hospital administrator. I have experience working in every position within this field. I'm going on 21 years of experience now in the veterinary field, which I hope doesn't date me too much. I really enjoy this profession and the fact that every day brings a new and interesting challenge. I have my BS in Biology(pre-med major) and a minor in chemistry. Before working in the veterinary field, I was the lead biologist for Manatee county and was also a staff chemist at Mote Marine Laboratory. I have a wonderful wife of 17 years now and 2 boys and one dog.

Laura Lee
Office Manager
Hello GCVC family! I am Laura Lee, I am a Florida native and have worked in the Veterinary
industry for about twenty three years. I earned my bachelors from Florida State University and
after living in Tallahassee for a few years I moved back to my hometown, Palm Harbor. Besides
being a loyal FSU women's soccer fan, I am also an avid fan of Liverpool FC and FC Barcelona.
I also volunteer with a local soccer club near my house as the vice president and a coach.
When I am not at work I am at home watching history documentaries, soccer games or you can
find me at the soccer fields with my son. I currently am the proud owner of one rescue dog,
Gizmo and one cat, Tinkerbell. I look forward to meeting everyone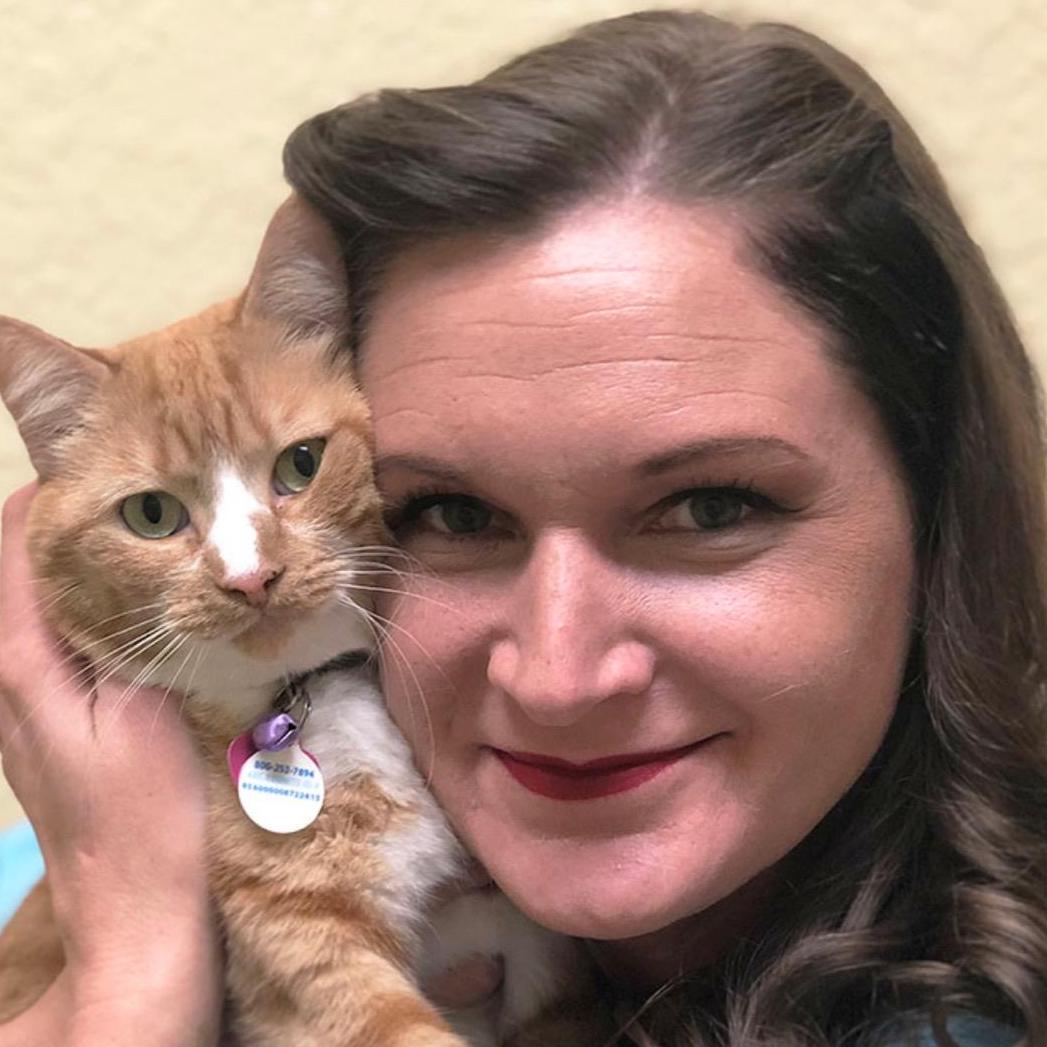 Leslie
Technician Supervisor
Hi there! I'm Leslie, a receptionist in the loving family of Gulf Coast Veterinary Center. My love for animals began at a young age. I moved to Florida from Ohio in 2006 and have been caring for pets every day since. Through the years, I have developed the knowledge to speak for the pets because they cannot speak for themselves. My goal is to see that every companion receives the best care they deserve. I am so fortunate to do what I've always wanted to do. Animals are my love and passion. They are our family.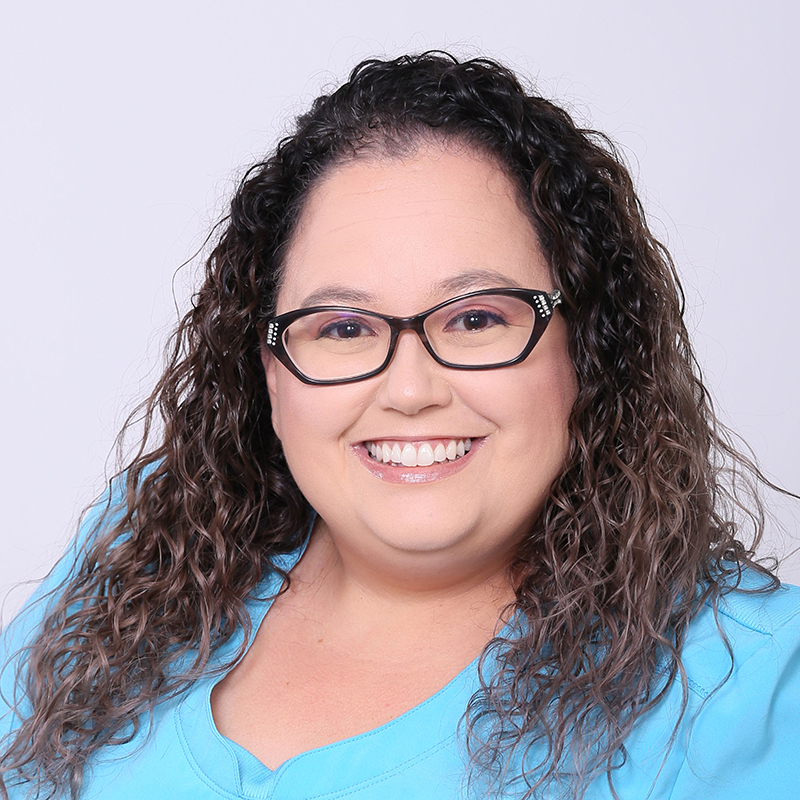 Sarah
Reception Supervisor
I started in the veterinary industry in 2009 after I got my diploma as a Veterinary Technician. I have done it all: kennel, technician, and front desk. I started at Gulf Coast Veterinary Center on February 24, 2020. I worked at the Spring Hill office for my first 3 months before Dr. Hamilton brought me to join the Tampa team. My love for animals started at birth. My parents were jockeys and I was raised around horses all my life. I have 3 cats, Mina who is 13 years old and wishes she was the only cat. Pot Hole is just over a year old that someone found at about 7wks old who was hit by a car. She does need surgery to fix a diaphragmatic hernia but she is doing awesome. Then there is my daughter's best friend Porthos the Pirate he is just over a year also. He was found by the neighbors a month or so after I got Pot Hole. He was only about 5 wks old and being attacked by crows. Hoping to add a dog to the family in the future! I'm so excited to meet and help all our clients at GCVC Tampa.
Technicians/Receptionist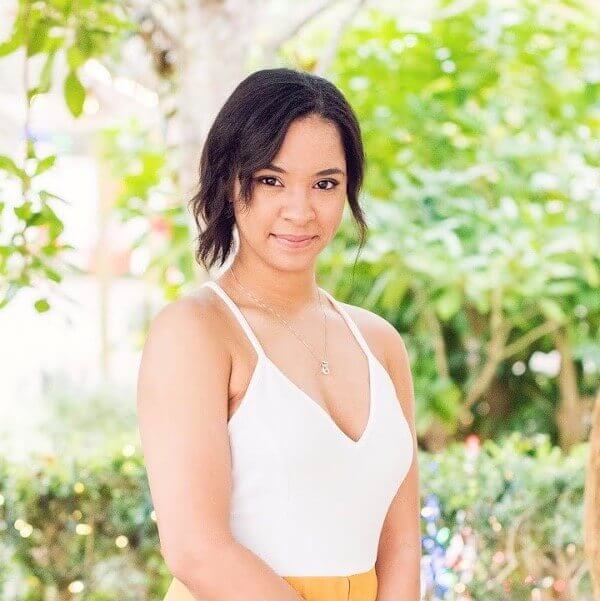 Arianna
Reception/Veterinary Assistant
I have a passion for animals, and I have cared for a variety of pets my whole life. I am here to accommodate the needs of your furry friends while they are under our care. When you bring your pets to our clinic, you can be assured that they will receive a gracious amount of love and care, as meeting and treating your animals is the most fulfilling job I could ask for.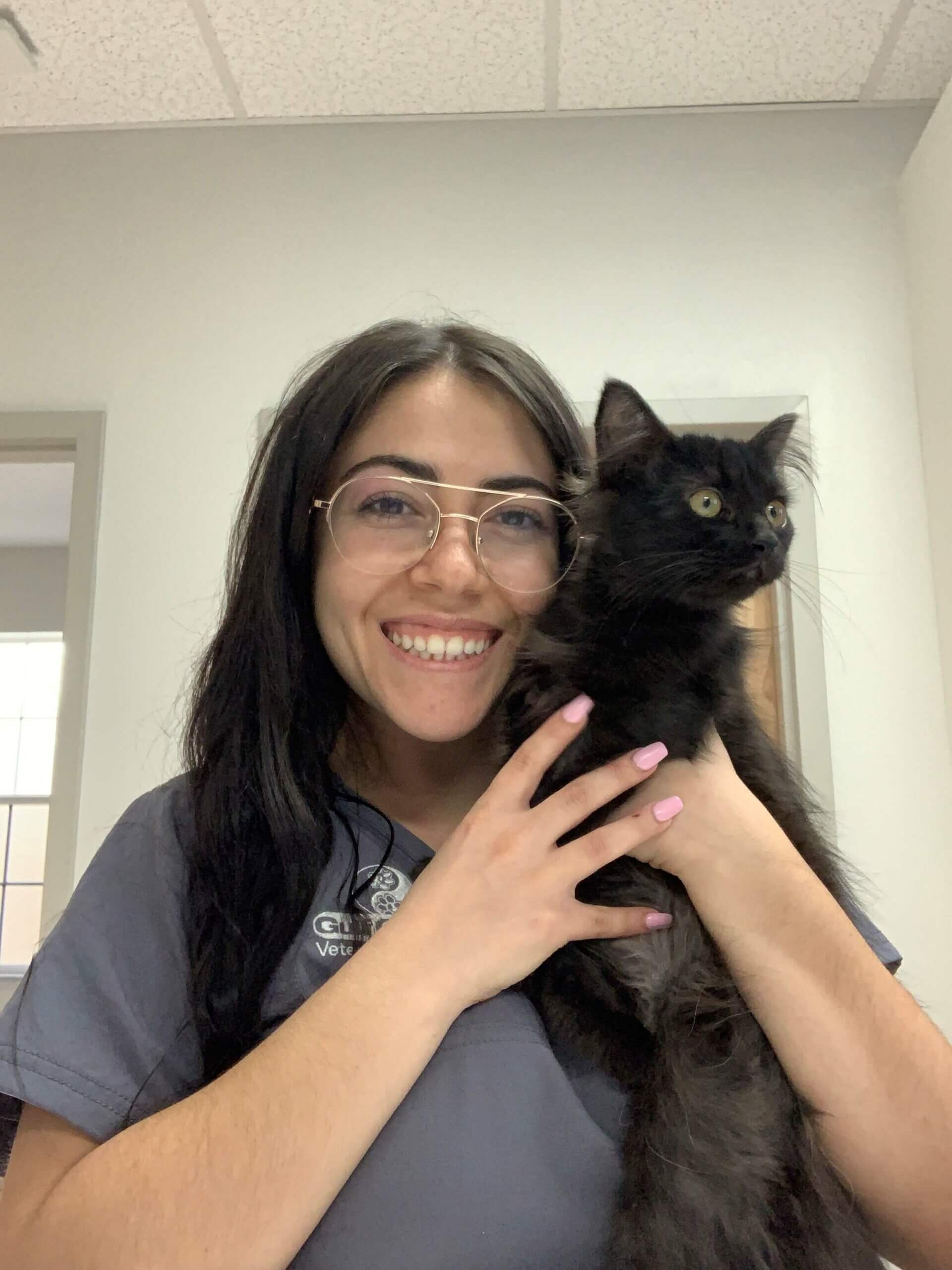 Emma
Hi I'm Emma! I recently moved down to Tampa from Connecticut in October. Because my mom was a dog groomer I grew up surrounded by dogs and cats! That was where my love for animals began! In addition to being a receptionist at Gulf Coast I'm also in school studying to be a vet tech. I'm excited to be a part of the Gulf Coast team and even more excited to take advantage of everything Tampa has to offer!

Carrington
Hi I'm Carrington, but everyone calls me CJ. I currently have 2 dogs, named Keva and Chopper, that are my kids. My goal is to provide the best possible care and belly rubs to all our patients. I hope to one day adopt a few more fur babies in the future and become a certified technician. I look forward to taking care of your babies!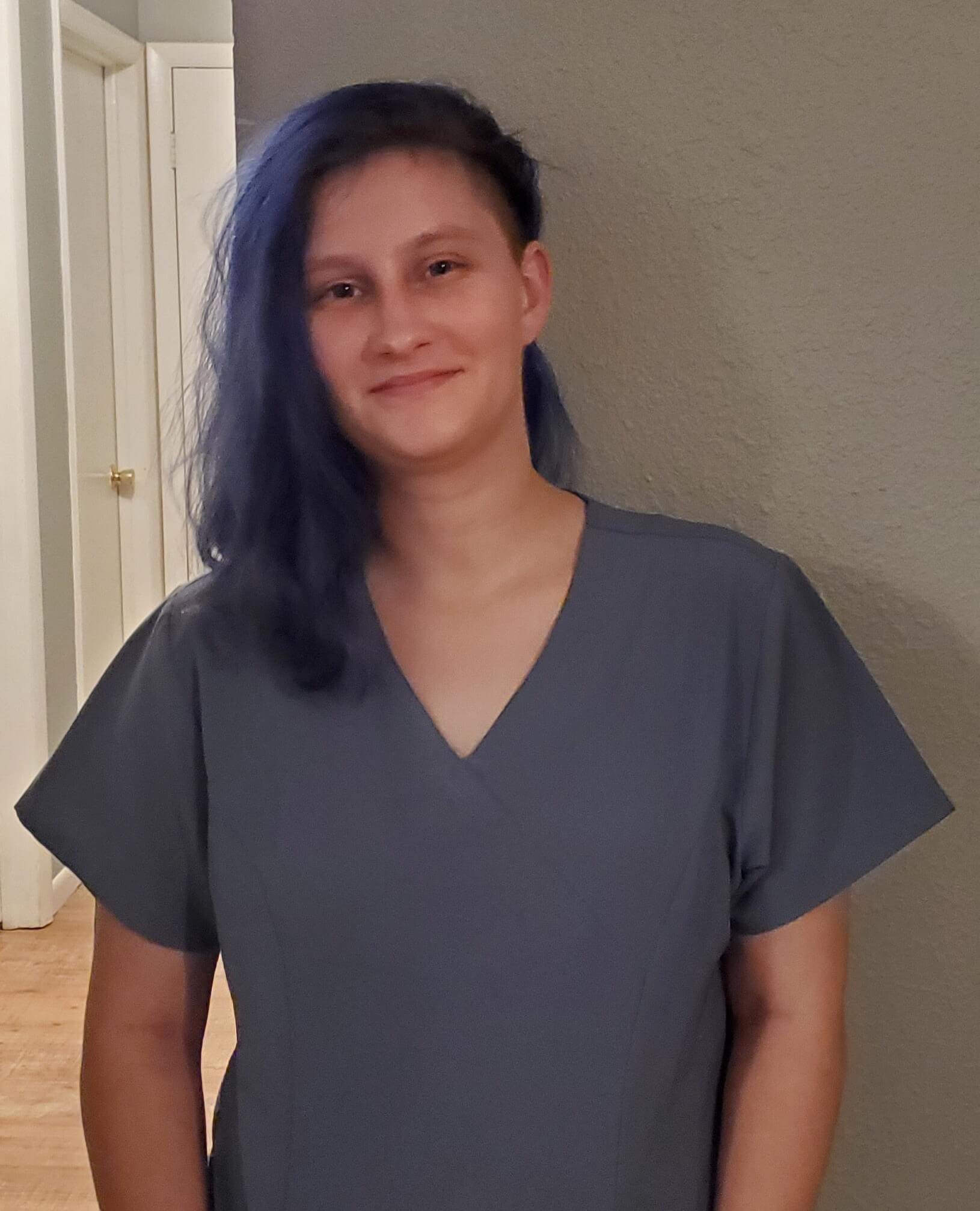 Katherine
My name is Katherine. I grew up in the Tampa area and I love working with our furry four legged friends. In my spare time I play video games and make pottery. I am happy to be a part of the Gulf Coast Veterinary team.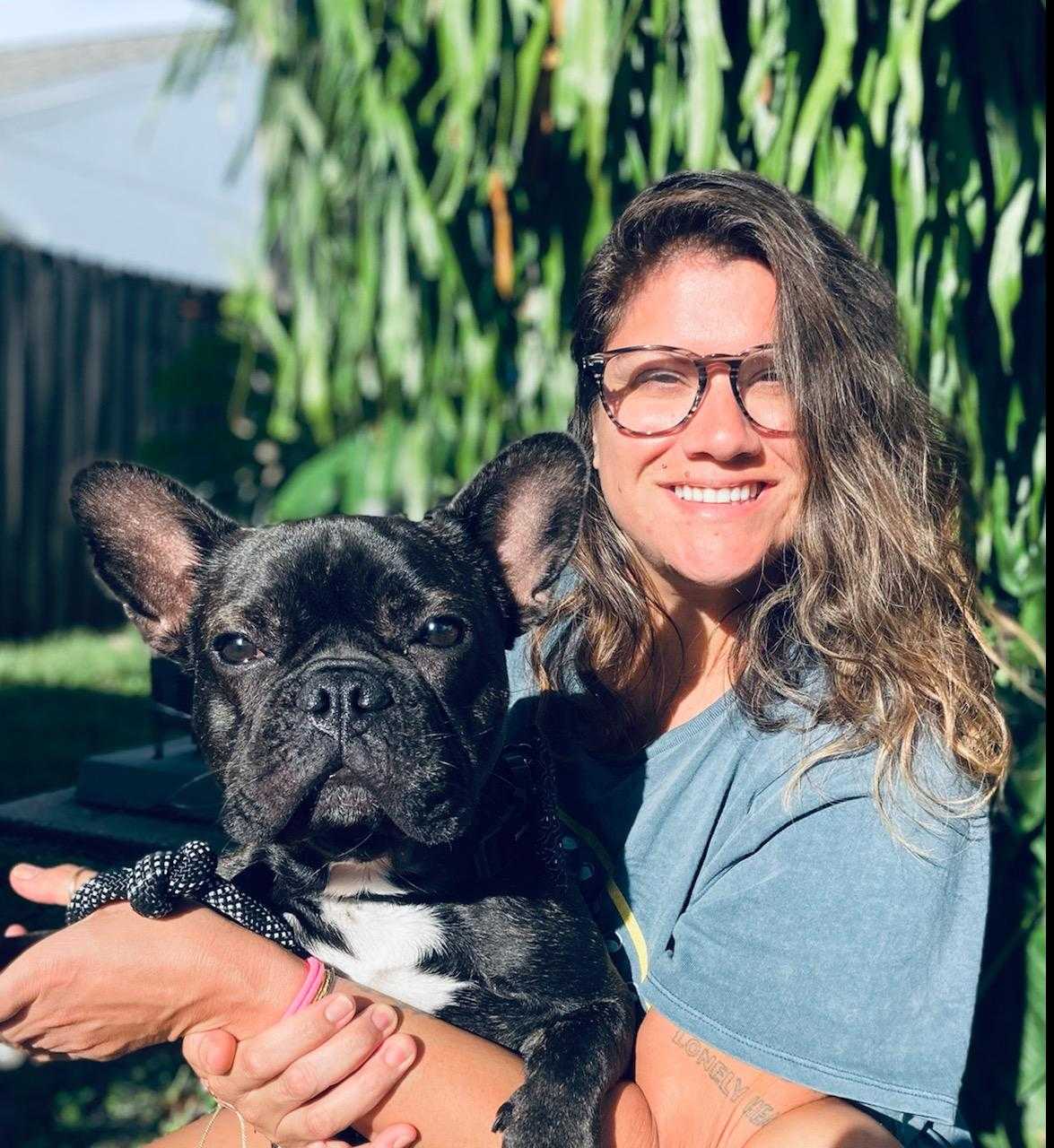 Priscilla
Hi, my name is Priscilla…
Since I was a kid I've always been told I have this unspoken connection with animals. I can't see myself having any other career and be as happy as I am. Being able to educate owners on the care of their furry family member is a great passion of mine.
I've worked mostly in small animal practices for the last 15yrs but I've also had the pleasure of working with exotics, birds, and some farm animals.
In my spare time I'm outdoors enjoying the beauty that I'm so lucky to have around me.

Nicole
Bio coming soon.

Paris
Bio coming soon.